Sale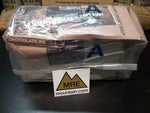 Australia CR1M Armed Forces 24 hour combat ration
Foreign MREs and Ration Packs - MREmountain
Sorry, currently out of stock
Description
You are purchasing a new sealed VERY RARE Australian Armed Forces CR1M (Combat Ration 1 Man).  
In the USA, packing date varies
This is a full 24 hour ration with breakfast, lunch, dinner, snacks, drinks, and accessories including the famous F.R.E.D. eating device!
Other items include matches, sweetened condensed milk, and Vegemite
This is one of the hardest combat rations to get in the USA. 
See last photo for menu contents. 
Menu
Main dishes are as follows: 
A: Pasta Bolognese, Lamb Casserole
B: Moroccan Lamb, Butter Chicken
C: Chili Con Carne, Chicken with Wild Rice
D: Beef and Pasta, Lamb Korma
E: Sweet and Sour Chicken, Lamb and Tomato Sambal
F: Hearty Beef Stew, Mutton Curry
G: Savory Mince, Chicken Korma
H: Chili Con Carne, Chicken Korma
ADDITIONAL ITEMS COMMON TO ALL MENUS
Mi Goreng Noodles 1x55g
Instant Mashed Potato's 1x60g
Long Life bread 1x65g
Natural Muesli with fruits and seeds 1x90g
Processed cheddar cheese 1x56g
Chocolate ration 1x50g
Candy chocolate M&Ms 1x49g
Biscuit, Cream cracker 1x35g
Biscuit jam sandwich 1x32g
Chewing gum, Mentos sugar free 2 packs
Concentrated yeast extract (Vegemite) 1x15g
Sweetened condensed milk 1x85g
Sustagen 1x60g
Tomato ketchup 1x15g
Tabasco sauce 1 x 3 ml
Instant coffee 2x3.5g
Tea bags 2x2.5g
Non-dairy creamer 1x15g
Sugar, white 4x7g
Salt 1x2g
Pepper, black 1x2g
Matches 1
Paper, toilet, 10 sheets 1
Bag, plastic 1
Spoon plastic 1
Pads, scouring, soaped 1
Rubber bands, size 32 3
Bag, plastic, self-closer 1
Opener, can, hand (FRED) 1
Menu, ingredients, information sheet 1
Video
Join The MREmountain community
We'll fill you in on the latest and you'll be the first to hear about sales and discounts! FREE PREMIUM SUBSCRIPTION INSTEAD OF 4.99 MONTHLY!