Sale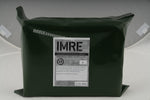 Czech IMRE 24 hour MRE
Foreign MREs and Ration Packs - MREmountain1
Description
MREs have never been this diverse. And we're bringing even more selections for you!
Like these fantastic Czech IMRE 24 hour MREs - yet another MREmountain.com exclusive!
These rations are designed based on the experience of BDP users in coordination with the leaders in the military as well as outdoors activities to create an MRE like no other. 
Each ration is developed to precisely deliver 24 hours of active power based on a formula of energy-boosting mains, beverages, and snacks. 
No frills, no unnecessary bells or whistles. These Czech MREs are famed for their mobile, lightweight, and conservative design. They're designed to deliver a day's worth of nutrition in the shortest amount of time possible, in the most durable of packages. 
That's what this ration is all about.
It's the perfect companion to extreme outdoor activities, military exercises, airsoft, hunting, fishing, camping, or for professionals who are always on the go. 
They're also great to have as a backup food source in case of natural disasters or similar catastrophes. 
Enjoy this Czech IMRE 24 hour MRE exclusively at MREmountain.com while supplies last
Video review
Menu
Menu I

moravian sparrow 300 g - 1x
pork in own juice 215 g - 1x
chicken luncheon meat 125 g - 1x
tuna in oil 80 g - 1x
crisp dark bread slices 35 g - 1x
crisp light bread slices light 35 g - 1x
dark chocolate 25 g - 2x
multivitamin beverage 6 g - 1x
chewing gum - 1x
tea black 1,75 g - 2x
strawberry fruit spread 20 g - 3x
grape candy - 2pcs
salt 2 g - 2x
sugar 5 g - 8 times
coffee 2 g - 2x
wet napkin - 1x
paper napkin - 4x
PE bag
Menu II
1x Pork steak 300g
1x-Spicy risotto 215g
1x-Luncheonmeat125g
1x-Turkey pâté 75g
1x-Fragile slices dark 35 g
1x-Fragrant slices light 35 g
2x-Bitter chocolate 25 g
1x-Multivitamin drink 6g,
1x-Chewing gum
2x-Tea black 1,75g
3x-Fruit spreads Strawberry 20g
1x-Grape sugar (2 tbl.),
2x Salt 2g
8x-Sugar 5g
2x-Coffee 2g
1x-dampened napkin,
4x-Paper napkin
PE bag
Menu III
1x Goulash 400g
1x Bacon Spread 120g
1x Beef 180g
2x Crispbread 35g
1 x Chocolate 25g
2 x Salt
2 x  Sparkling Drink
2 x Coffee instant 
1 x Black tea bag
3x Sugar
3x Moist towelette

Menu IV
1x Beef in its own juice 400g
1x Poultry pate 75g
1x Pork pate 23g
2x Crispbread 35g
3x Jam (Raspberry, Strawberry, Cherry)
2x Chewing gum
2x Chocolate
2x Salt
1x Mandarin drink mix
2x Multivitamin Dextrose candy
2x Coffee instant
2x Black tea bag
8x Sugar
3x Moist napkin
Napkin
PE Bag
Join The MREmountain community
We'll fill you in on the latest and you'll be the first to hear about sales and discounts! FREE PREMIUM SUBSCRIPTION INSTEAD OF 4.99 MONTHLY!