Sale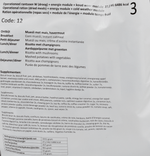 Dutch Armed Forces Operational Ration Arctic Climate 6400kcal
Foreign MREs and Ration Packs - MREmountain1
Dutch Armed Forces Operational Ration 2023 Edition Arctic Ration
THE BIGGEST RATION IN THE WORLD! 
Featuring massive entrees ranging from 250-500 grams each, this complete ration pack has everything in it without any need for separate modules.
Easily access breakfast, snacks, mains, and accessories, four filling and nutritious meals hermetically-sealed in thermostatic pouches in a big Ziploc bag with carrying handle to create a comprehensive, nutritious, and delicious 24 hour ration pack that is loaded to the brim with over 6,000 kcal+ in one ration. That's nearly six pounds of food and sundries designed to keep you nourished even in the harshest conditions.
These rations were developed specifically for the Royal Netherlands Armed Forces' cold-weather operations and feature a higher amount of calories that feature freeze-dried meals and porridge for breakfast.
Each Main entrée is Freeze dried, saving space and weight, but is still sure to fill you up.
The ration also features delicious meat, cheese, and tuna spreads, with biscuits that are denser and thicker than those found in US MREs.
So, what are you waiting for? Get the latest in Dutch MRE technology and order your Dutch Armed Forces Operational Ration Arctic Edition exclusively at MREmountain.com today!
For Specific menu information, please choose the variant first and take a look at the picture
Join The MREmountain community
We'll fill you in on the latest and you'll be the first to hear about sales and discounts! FREE PREMIUM SUBSCRIPTION INSTEAD OF 4.99 MONTHLY!