Sale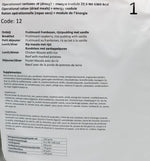 Dutch Freeze Dry 5400 cal Arctic 24 hour MRE
Foreign MREs and Ration Packs - MREmountain1
This is a very large Royal Dutch Armed Forces 2023 issued 24 hour Arctic Field Ration. This package is designed to provide for a full day's needs under extreme arctic conditions.
See photos for menu choices. 
This a very light weight ration (under 4 lbs), that provides a MASSIVE amount of food over 5,400 calories. Making it one of the largest MREs in the world! 
Each package comes with: breakfast, lunch and dinner entrees. Biscuits Brown x 3, Biscuits Fruit, Arden pate, syrup, hazelnut spread, candy, energy bar, cake, beef jerky, tortillas, tuna, cashews, peanuts, chewing gum x 2, tea x 3, coffee x 3, coffee creamer, sugar x 5, recovery protein powder, cocoa beverage, beef tea, isotonic drink x 4, ice tea, x 2, chicken soup, salt, pepper, herbal tea, vitamin, tissues, toothpicks x 2, spoon, wet wipes x 3
Join The MREmountain community
We'll fill you in on the latest and you'll be the first to hear about sales and discounts! FREE PREMIUM SUBSCRIPTION INSTEAD OF 4.99 MONTHLY!