Sale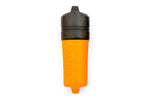 FIRESLEEVE Fortress for Classic Bic Lighter
Survival, First Aid and Equipment - MREmountain
The fireSLEEVE™ is a fortress for your BIC® classic lighter.  It creates a waterproof barrier around the lighter while providing two separate lashing points for cordage.  An integral strap molded into the lighter body allows the gas button to be held down for hands-free use. 
FEATURES:
The flexible nature of the fireSLEEVE body allowed us to create a strap that holds down the red button. This keeps the lighter on until you slide the strap off with your thumb. Use this when reaching into tight spots.
When capped, the fireSLEEVE will float and is waterproof to not less than 3 feet. The flexible body has a high-grip surface to keep it in your hand when it becomes wet.
The included lighter is a BIC Classic lighter available at any convenience store all over the world. Simply pull out the old one and slide in the new. A small dab of silicon grease can be used if necessary.
The cap not only keeps moisture out but it also protects the red gas button from becoming accidentally depressed in you pack. When the lighter is in use, the cap can be stored on the bottom of the fireSLEEVE body.
The body is molded from flexible TPE (similar to silicon). Due to its flexibility, the TPE body acts as a gasket around the circumference of the BIC lighter sealing it off from moisture intrusion. Its flexibility also allows the gas-strap to function properly. The cap is molded from a super-tough glass-filled nylon.
Join The MREmountain community
We'll fill you in on the latest and you'll be the first to hear about sales and discounts! FREE PREMIUM SUBSCRIPTION INSTEAD OF 4.99 MONTHLY!