Sale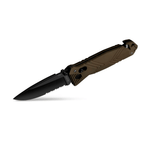 French Army CAC Knife
Survival, First Aid and Equipment - MREmountain
The CAC is the third iteration of the "Campaign knife" that Tarrerias - Bonjean designs and manufactures for the French army. Its uncompromising design, its lightness and its robustness make the CAC an exceptional knife. Much more technical and ambitious than its predecessors, the CAC is TB's response to the request expressed by the French army, namely, to design a robust, ambidextrous knife that can be opened and closed with one hand. To create this exceptional knife, Tarrerias - Bonjean collaborated with Philippe Perotti, former French special forces and author of dozens of books on shooting and its instruction. Its recognized experience in hand-to-hand combat has made it possible to maximize the effectiveness of knife use to make the CAC® the ideal companion for our troops in all theaters of operations. The CAC® locking mechanism is extremely strong and ensures flawless blade locking in the open position.
The steel of the blade of the CAC is made with a stainless steel doped with nitrogen, Nitrox (Nitrox - a creation of TB Outdoor's GDD factory. It is a nitrogen-doped Z30 which would be similar to a Z50 DV14). This steel gives the blade a particularly high resistance to corrosion, especially since the blade is coated with a PVD coating which further accentuates this resistance. The cutting capacity is also a strong point of this steel which combines flexibility and high resistance. TB has also integrated an AXIS style crossbar lock into the CAC. This mechanism is extremely robust and ensures flawless locking of the blade in the open position.
The CAC was officially selected against many competing products, for its performance, quality and price by the French army in 2017. Its distribution in the various army corps began in early 2018 and will largely equip French soldiers, at least until 2022.
Perfectly resistant to corrosion, the blade is made of Nitrox, whose cutting edge is smooth or mixed smooth serrations. The CAC also has a window breaker, a corkscrew and a reversible belt clip. It is a real concentrate of all the advanced technologies that can be expected from an operational knife. The handle is made up of PA6 polymer loaded with fiberglass or G10. These plates are screwed to the mechanics by stainless steel screws, one of which cleverly houses a strap cutting blade. This curved and interchangeable blade is designed to cut webbing, ropes and seat belts to aid extraction in the event of an accident.
What is PA6 FV
PA6 is a polyamide, that is to say a technical thermoplastic. TB Outdoor have selected for their collection of Outdoor knives a PA6 FV, that is to say that it is loaded with fiberglass. Integrating fiberglass with the polyamide makes it possible to form a three-dimensional network of the skeleton of the part. The technical properties of PA6 FV are very similar to those of metals in terms of deformation, creep characteristics and energy absorption.
What is the G10
The G10 consists of fiberglass that is dipped in resin. After compression and curing of this mixture, the G10 is a light, durable and robust material. Outdoor and survival knives often offer G10 handles because of these characteristics. G10 is a very resistant material and not very sensitive to water, cold, heat, rot or corrosion.
Specifications
Blade Length: 3.62"
Closed Length: 5.63"
Overall Length: 9.25"
Blade Material: Nitrox Stainless Steel
Blade Thickness: 0.12"
Blade Style: Drop Point
Blade Edge: Combo
Blade Finish: Black PVD
Handle Material: Khaki/Black PA6 Polymer
Locking Mechanism: Crossbar
Pocket Clip: Black Stainless Steel Reversible
Weight: 5.7 oz.
Made in France
Join The MREmountain community
We'll fill you in on the latest and you'll be the first to hear about sales and discounts! FREE PREMIUM SUBSCRIPTION INSTEAD OF 4.99 MONTHLY!