Sale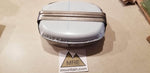 French Special Forces Mess Tin Set
Survival, First Aid and Equipment - MREmountain1
Sorry, currently out of stock
Genuine French Special Forces Issue
INOX stainless steel and Teflon coated wrapped in original plastic! 
 Very light two pan set: Teflon coated with nesting pot and lid and locking handle. 
NEW not old stock! 
USPS Priority Shipping 2-3 days! 
Join The MREmountain community
We'll fill you in on the latest and you'll be the first to hear about sales and discounts! FREE PREMIUM SUBSCRIPTION INSTEAD OF 4.99 MONTHLY!