Sale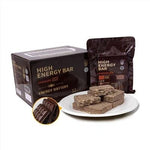 High Energy Emergency Ration Survival Bar
Survival, First Aid and Equipment - MREmountain
Sorry, currently out of stock
This is a high quality compressed wheat flour biscuit bar, from the Chinese PLA MREs. 
Each box comes with 12 packs.
Each pack contains two bars as shown in photos
Long shelf life (up to 20 years). 
High energy in a very small and light package. 
Comes in 4 flavors: Chocolate, multivitamin (with extra vitamins), peanut and salted.
Comparable to Seven Oceans, NRG-5 and other emergency ration bars (but lower cost).
20 years shelf life

Nutritional value per 100g.
- Energy: 1988 kj / 475 kcal
- Fat: 19.4 g
- Of which saturated fats: 8.24 g
- Carbohydrates: 67.6 g
- Of which sugar: 20.3 g
- Protein: 7.1 g
- Salt: 0.238g
Join The MREmountain community
We'll fill you in on the latest and you'll be the first to hear about sales and discounts! FREE PREMIUM SUBSCRIPTION INSTEAD OF 4.99 MONTHLY!