Sale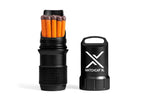 MATCHCAP XL Waterproof Match Safe
Survival, First Aid and Equipment - MREmountain
The MATCHCAP XL™ is a nearly indestructible waterproof match case for storing matches and other survival gear.  An integral red-phosphorus striker is not only protected from rubbing against the matches but is also waterproof due to its location inside the o-ring sealed cap.
FEATURES:
The MATCHCAP XL™ replaceable safety-match striker is located inside the cap protected by an o-ring. Because it's on the outside of the capsule, the stored match
es won't rub on it either.
For use with strike-anywhere matches, the sandpaper pad on the bottom is water-resistant and great when everything else is too wet to use as a striking surface
Matches nor strikers work when wet so the capsule is sealed with an o-ring that prevents water and moisture intrusion at depths of not less than 15 ft (5m).
The MATCHCAP XL™ is CNC machined, in house from USA high-grade 6061 aluminum then anodized for protection in one of four signature Exotac® colors.
Holds UCO® Stormproof Matches™
The large capsule of the MATCHCAP XL™ can fit matches or other gear up to 2.9in. (74mm) in length. It fits the ever popular Stormproof Match as well as your basic kitchen match and everything in between.
Join The MREmountain community
We'll fill you in on the latest and you'll be the first to hear about sales and discounts! FREE PREMIUM SUBSCRIPTION INSTEAD OF 4.99 MONTHLY!