Sale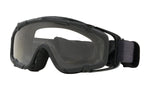 Oakley Standard Issue Ballistic Goggle Array
Survival, First Aid and Equipment - MREmountain1
Description
The SI Ballistic Goggle is designed to present the best Oakley has to offer in protection, optical performance, and comfort.
The SI Ballistic goggle is fully compliant with the ANSI Z87.1 – 2003 for both protection (high mass/velocity impact and penetration) and optical performance requirements.
The SI Ballistic goggle lenses are made from Oakley's high purity, optical grade polycarbonate, Plutonite® (blocks 100% UVA, UVB, and UVC light).
The SI Ballistic Goggle is equipped with a micro-fleece face-foam liner to provide a secure and comfortable fit for all sized heads.
Fully compatible with MICH, ACH, CVC, AND PASGT helmets.
System features a low profile design with minimized facial standoff
Low profile, flame-resistant, quick-release retention strap system with anti-slip tack strips
Full compatibility with MICH, ACH, LWH, CVC, FAST, CryeTM and Ops-Core helmet systems
Fully compatible with helmet-mounted night vision devices
Lens locking slide improves lens retention while easing lens changing in the field
Low profile, moisture wicking fleece face foam
Ultra lightweight design (3.7-ounce total weight)
Lenses block all of UVA, UVB and harmful violet-blue light up to a 400nm wavelength
Advanced anti-fog and anti-abrasion performance
Made in the USA

Lens Color:

Grey Lens - LIght Transmission 18% - Medium to bright light. Excellent all-purpose lens with enhanced contrast for sunny conditions.
Clear Lens - LIght Transmission 93% - All-purpose. Allows the maximum amount of light through for the most accurate representation of your environment.

Compliance:

Complies with ANSI Z87.1-2010, EN-166 BT K and U.S. Army MCEPS, plus MIL-DTL-43511 ballistic impact resistance requirements in all lens configurations

Performance of permanent anti-fog lens coating
Meets ballistic fragmentation impact standards per MIL-DTL-43511D
Includes: Hard case, frame, clear lens, dark lens, bag/cleaning microfiber, instructions, certification documents.
Join The MREmountain community
We'll fill you in on the latest and you'll be the first to hear about sales and discounts! FREE PREMIUM SUBSCRIPTION INSTEAD OF 4.99 MONTHLY!