Sale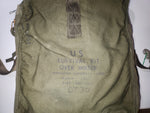 Rare Vintage 1967 US Air Force Survival Kit Over Water OV-1
Survival, First Aid and Equipment - MREmountain
Sealed fully stocked over 20 lbs!
Complete with inflation cylinder and life raft!
Extremely rare. Contents photos are examples.
This has not been opened or inflated by us.
March 1967
Join The MREmountain community
We'll fill you in on the latest and you'll be the first to hear about sales and discounts! FREE PREMIUM SUBSCRIPTION INSTEAD OF 4.99 MONTHLY!