Sale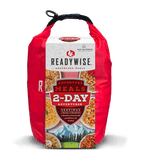 ReadyWise 2 Day Adventure Bag
Outdoor Expedition and Backpacking Food - MREmountain
The ReadyWise 2 Day Adventure Bag contains 4 entrees, 2 breakfasts and 2 snacks conveniently packed in a 5 liter dry bag. These pouches are lightweight making them easily portable on any outdoor adventure. Just add water and you can eat directly from the pouch.
What's Included in this bag?
1 Treeline Teriyaki Chicken & Rice Pouch

1 Trailhead Noodles & Beef Pouch

1 Still Lake Lasagna with Sausage Pouch

1 Sunrise Strawberry Granola Crunch Pouch

1 Appalachian Apple Cinnamon Cereal Pouch

1 Golden Fields Mac & Cheese Pouch

2 Simple Kitchen Sliced Banana Pouches
Join The MREmountain community
We'll fill you in on the latest and you'll be the first to hear about sales and discounts! FREE PREMIUM SUBSCRIPTION INSTEAD OF 4.99 MONTHLY!