Sale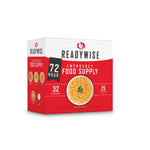 ReadyWise 72 Hour Emergency Food Supply
Outdoor Expedition and Backpacking Food - MREmountain
This box includes 12 servings of lunch/dinner entrees, 8 servings of breakfast entrees, and 12 servings of milk.
How many people will this feed and for how long?
1 person for 3 days at 3 servings per day
What's included in this kit?
1 pouch of Cheesy Macaroni (4 total servings)
1 pouch of Teriyaki Rice (4 total servings)
1 pouch of Hearty Tortilla Soup (4 total servings)
2 pouches of Brown Sugar and Maple Multi-Grain Cereal (8 Servings)
1 pouch of Whey Milk (12 servings) 
Additional Product Details:
Includes 1 Box
5,560 calories
3 Days of food at 1800 calories per day
About 32 cups of water required
Food is safely sealed in Metallyte pouches
25 Year Shelf Life
Total Weight: 3 lbs
Join The MREmountain community
We'll fill you in on the latest and you'll be the first to hear about sales and discounts! FREE PREMIUM SUBSCRIPTION INSTEAD OF 4.99 MONTHLY!