Sale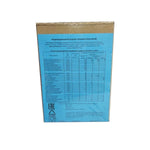 RUSSIA MCHS (EMERCOM) INDIVIDUAL 24 HOUR RATION
Foreign MREs and Ration Packs - MREmountain2
Description 
----
Dear customers! Due to the increased demand for this product, we are forced to inform you that the delivery time of this product can be up to 30 working days. We try to satisfy the demand of each of you, because every customer is valuable to us. In order for you to enjoy the tastes of rations from different countries - at your numerous requests, we have decided not to completely stop sales due to increased demand, but to increase the delivery time. In this way, we try to meet the demand of each of our beloved customers. Subscribe to our news and follow the blog! By making a purchase, you automatically agree to the extended delivery time.
----
The ration of the Ministry of Emergencies includes all the necessary components for an adult for a day. 

A large, unique IRP of the Ministry of Emergencies was developed by the special order of the Russian Emergencies Ministry. The weight of a food ration is 2 kg - this is a complete diet for an adult for 24 hours. Rations of the Ministry of Emergencies are packed in an individual package, which can be used repeatedly and carry the elements of the food set remaining after use. The ration of the Ministry of Emergencies fully complies with the requirements of TU 9194-010-87790640-13. It includes not only food items, but also a special opener means for disinfecting liquids, matches in individual packaging, a heater.

The Ministry of Emergency Situations ration can be bought not only for use in the field or as a case filling for emergency situations, because the ration is varied and tasty, suitable for a hiking trip, hunting trip or fishing, as a unique gift. In the production of rations, only natural components are used, so each food item is not only useful and thoughtful, but also tasty.

Video review
Menu
Menu varies, but could contain:
1. Army biscuits 
2. Premium Beef with Beans
3. Mince meat 
4. Beef and vegetable stew
5. Kasha (buckwheat) with Beef
6. Vegetable Caviar
7. Sweetened Condensed Milk
8. Fruit Jam
9. Fruit bar
10. Isotonic Drink 
11. Black tea 
12. Instant coffee 
13. Salt 
14. Sugar
15. Ground black pepper 
16. Field vitamins
17. Portable Folding Stove
18. Water-resistant matches - 6 pcs.
19. Food tin opener tool
20. Water disinfectant tablets
21. Spoon
22. Disinfectant wipes
23. Paper napkins
Other Information
Fats: 227 gr., Protein: 137 gr.
Energy value: 4500 Kcal / 18965 kJ
Weight: 1.9 kg
Join The MREmountain community
We'll fill you in on the latest and you'll be the first to hear about sales and discounts! FREE PREMIUM SUBSCRIPTION INSTEAD OF 4.99 MONTHLY!