Sale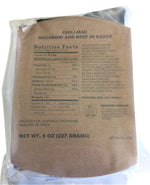 Sopacko Ready Meals Set of 4 US made MREs
USA combat rations - MREmountain
SOPAKCO Emergency Ration Meals manufactured to meet government specs for
distribution in the event of a major disaster.
Packed 2018, inspection date 2023 - this is a CLEARANCE ITEM!
No refunds, no returns!
You will receive four different menus (variety pack).
$5/each can't beat it! 
By checking out you acknowledge that you understand MRE inspection date industry standards.

Each case contains 16 individual meals packed in clear, strong, durable, meal bag.
Each meal contains a reduced sodium entrée, heater, toaster
pastry, cracker or bread, 2 jelly/jam, spoon and candy (tootsie roll).
The Emergency Ration case has a shelf life of 5 years from pack date.

Each case comes with an assortment of the possible following entrees – spaghetti,
cheese tortellini, penne pasta with vegetarian sausage crumble, chili macaroni,
vegetarian lasagna, and beef ravioli.

Calories range from 1,050 calories to 1,110 calories depending on entrée selection.
Join The MREmountain community
We'll fill you in on the latest and you'll be the first to hear about sales and discounts! FREE PREMIUM SUBSCRIPTION INSTEAD OF 4.99 MONTHLY!