Sale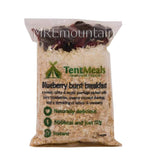 TentMeals High Energy Health Instant Meals
Outdoor Expedition and Backpacking Food - MREmountain
Sorry, currently out of stock
Description
TentMeals are small, lightweight, compact and calorie dense instant meal. These are perfect to hiking, backpacking, training, rock climbing, hunting, and as emergency meals. 
A variety of hand packed menus are available for breakfast and main meals. 
 HIGH ENERGY: 500 calorie meal is smaller than a soda can

LIGHT: ~100 grams each meal

NATURAL: Each bag is packed with nuts, seeds and coconut based products NO OILS!

 VEGAN

BALANCED: you can choose any meal for your needs of carb, protein and fats.
Menu
Breakfast:
Blueberry Burst 
A sweet, nutty and exotic porridge packed with juicy blueberries, creamy coconut shavings, and a sprinkling of lemon and cranberry.
Subtly Cinnamon
A sweet, warming and classic porridge packed with juicy dates and pears, topped with sunflower seeds and walnuts chunks.
Super Seed and Red Berry
A hearty, wholesome and fruity porridge of sunflower, pumpkin and linseeds, sprinkled with whole raspberries and strawberry pieces
Sour Cherry and Chocolate Breakfast -
A gluten free* multigrain porridge with roasted hazelnuts, sour cherries and creamy cocoa.
*free from gluten containing ingredients, but made in a facility that handles gluten (so traces of gluten may be present).
Mains:
Almond Jalfrezi
A mild rice curry of almonds, onion, coconut and bell peppers, in a smooth, creamy coconut sauce.
Italian 
Italian seasoned couscous packed with nuts, veg, sundried tomatoes and parmesan style shavings
Moroccan Mango
Hearty Moroccan spiced couscous bursting with juicy mangos, jumbo raisins, apricots, almonds, and crunchy walnuts bites
Join The MREmountain community
We'll fill you in on the latest and you'll be the first to hear about sales and discounts! FREE PREMIUM SUBSCRIPTION INSTEAD OF 4.99 MONTHLY!