Sale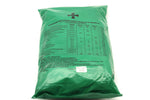 Ukraine Armed Forces 24 hour Combat Ration Pack
Foreign MREs and Ration Packs - MREmountain2
Sorry, currently out of stock
This is the new generation RARE Ukraine armed forces 24 hour combat ration pack. It contains new retort pouch technology similar to USA MREs, NOT the canned food found in other Ukrainian combat rations.

Packed 2019 best by 2021/2022!
Delivery of this ration takes approximately 14 business days by priority airmail.




If you want expedited shipping (extra charge), please contact us.
This HUGE MRE contains 3 packages one each for Breakfast, Lunch and Dinner. Over 6 lbs total food. HUGE portions!
MREmountain.com exclusive! Bringing you the BEST quality rations in the world! 
See photos. We haven't been able to translate every menu but here is what we have now: 
Breakfast:

Kasha with Chicken, Biscuits, Coffee, Sugar, Salt,  Moist Towelette, Spoon, Napkin
Dinner (Lunch):

Borscht with beef, Special Shelf Stable Bread, Sauteed Pork and Potatoes with Vegetables, Tea, Sugar, Salt, Moist Towelette, Spoon, Napkin
Supper: Barley Pork Porridge, Special Shelf Stable Bread, Biscuits, Honey, 
Tea, Sugar, Salt, Tea, Moist Towelette, Spoon, Napkin
This is a fairly rare version Ukraine ration...usually they contain only canned food.
Join The MREmountain community
We'll fill you in on the latest and you'll be the first to hear about sales and discounts! FREE PREMIUM SUBSCRIPTION INSTEAD OF 4.99 MONTHLY!