Sale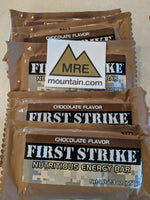 USA First Strike Bar
USA combat rations - MREmountain
FRESH! SOLD AS PACK OF 12 full size BARS
No cooking required
No refrigeration required
3 to 5 year shelf life at 80° — longer if kept in cooler conditions
MRE retort pouches are extremely durable and easy to store
MINI MOCHA CONTAINS 110mg CAFFEINE!
MREs are packaged and designed to provide energy and nutrition for on-the-go situations, which makes MRE's an excellent choice for emergency food kits. They can also be enjoyed while camping, hiking, hunting, backpacking, picnicking, or traveling.
These shelf stable ready to eat energy snacks are perfect for your emergency and survival supplies and disaster preparedness planning.
Manufactured and shipped to us direct from U.S. Military MRE suppliers.
Join The MREmountain community
We'll fill you in on the latest and you'll be the first to hear about sales and discounts! FREE PREMIUM SUBSCRIPTION INSTEAD OF 4.99 MONTHLY!