Sale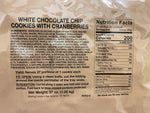 USA MRE Unitized Group Ration (UGR)
USA combat rations - MREmountain
The very rare Unitized Group Ratio or (UGR) is a large cooked and shelf stable ready to eat tray meal similar to an MRE but intended for field kitchen out of combat troop feeding. 
Clearance: Buy 2 Get 1 FREE! Add 3 to cart for auto discount!
Each tray is cooked and sealed. It can be heated by boiling in water or the contents can be removed and heated using any conventional method. 
All trays include protective cardboard sleeve.
Each tray provides 15-27 servings depending on the menu. 
The Unitized Group Ration consists of precooked, shelf-stable tray pack entrées. The UGR is hermetically sealed can be prepared using a tray ration heater or by immersing it in boiling water, ready to serve in 30 to 45 minutes.
The UGR has an offering of 5 breakfast menus and 10 lunch/dinner menus; each meal provides an average of 1,450 kcal. UGR modules have a minimum shelf life of 18 months at 80 °F (26.6 °C).
Join The MREmountain community
We'll fill you in on the latest and you'll be the first to hear about sales and discounts! FREE PREMIUM SUBSCRIPTION INSTEAD OF 4.99 MONTHLY!