Sale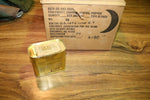 Vintage USA Food Packet Survival General Purpose
USA combat rations - MREmountain
This is a vintage 1960s thru early 2000s Food Packet Survival General Purpose. Very rare not often seen for sale.
**Choose your desired production year in Drop-Down Menu**
SOLD AS COLLECTIBLE ONLY! NOT FOR CONSUMPTION!
What is it?
The Food Packet, Survival, General Purpose, Improved is used by the Services to sustain an individual in survival situations, including escape and evasion, under all environmental conditions, and when potable water is limited. Requested by the Air Force, it is used to sustain personnel in any survival situation for periods of less than 5 consecutive days. 
What's in it?
The ration contains 6 compressed bars consisting of 2 cereal bars, 3 cookie bars, and 1 sucrose bar which are sealed in trilaminate pouches and packed in a water resistant, paperboard box. Lemon tea, and soup and gravy base are also included. Each packet provides 1447 kilocalories (5% protein, 39% fat, and 56% carbohydrate). It is designed to provide a maximum of 8% of the calories from protein in order to minimize metabolic water requirements.
How do I eat it?
The individual prepares the food. Fourteen ounces of water are required to reconstitute the lemon tea, soup and gravy base.
How long will it last
The shelf life for this ration is 5 years at 80 degrees Fahrenheit.
Join The MREmountain community
We'll fill you in on the latest and you'll be the first to hear about sales and discounts! FREE PREMIUM SUBSCRIPTION INSTEAD OF 4.99 MONTHLY!