Sale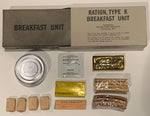 World War 2 Reproduction USA K Rations
USA combat rations - MREmountain
Sorry, currently out of stock
FULLY edible and 100% accurate. The ONLY 100% accurate and edible K ration on the market today. 
Breakfast, Dinner and Supper units available. 
Breakfast: fully printed outer box with malaria warning and contents. Inner box printed and fully waxed to be waterproof. 3" metal entrée cans with period correct stamping. Early war graphic stick of gum wrapped in wax or tan paper as aluminum was being conserved at the time. Fully stocked accessory pack with two different sets of cellophane wrapped biscuits (K-2 Graham and K-4). All period correct. A pack of Nescafe soluble coffee in correct foil laminate pouch or cream Nescafe over foil laminate envelope is also included. Lastly a cellophane wrapped dromedary fruit bar.
Dinner: The dinner unit contains all the same features as the breakfast unit above, but the entrée can is processed cheese, the beverage is lemon juice powder in reusable sachet, confection is a pack of Choclettos caramels in correct color graphic tray design and instead of cubed sugar the dinner units include a box of Domino or Patten granulated sugar. The dinner unit also includes a pack of matches with the malaria warning design. Matches and striker are fully functional.
Supper: The supper units contains all the same features as the breakfast and supper units above, but the entrée can is pork loaf, the beverage is bouillon powder, confection is a fully edible 2 oz sweet chocolate bar or 2 oz D Ration bar made to the exact specifications of the D Bar (cocoa powder, oat flour, cocoa fat, skim milk powder, sugar), plus a pack of Waldorf toilet paper.
Join The MREmountain community
We'll fill you in on the latest and you'll be the first to hear about sales and discounts! FREE PREMIUM SUBSCRIPTION INSTEAD OF 4.99 MONTHLY!